Dear Readers,



Volume #5 of The Leaf Newsletter! We are delighted to share about our wonderful properties with

various features and facilities, memorable moments with monthly special offers of Activities, Dining

and Relaxation at The Leaf Jimbaran.

VALENTINE ESCAPE
Love is all around us. Surprising your love one and plan a surprise romantic date with your partner to enrich your relationship and rekindle romance. Picture yourselves in a luxury private villa for two, hidden among the village, a world away from the distractions of everyday life.



DAY IN SILENCE
Bali is going to purify the world with its way. Take a little time and treat yourself to peace and tranquility in The Leaf Jimbaran. Celebrate this thoughtful moment with us here, amidst an expanse greenery and purify your mind and body in one of a kind Nyepi experience.



EASTER DELIGHT

Come out of your shell and celebrate a meaningful Easter with your family, friends or loved ones at our luxury private pool villa. Relish in the spirit of Easter by following easter egg hunt.




BOB 2015 : BEST NEW HOTEL/VILLA
We Are goes to second round! The Leaf Jimbaran is nominated as 1st choice in category " Best New Hotel/Villa". Support Us to be the winner, the competition will be end at 10 february 2016.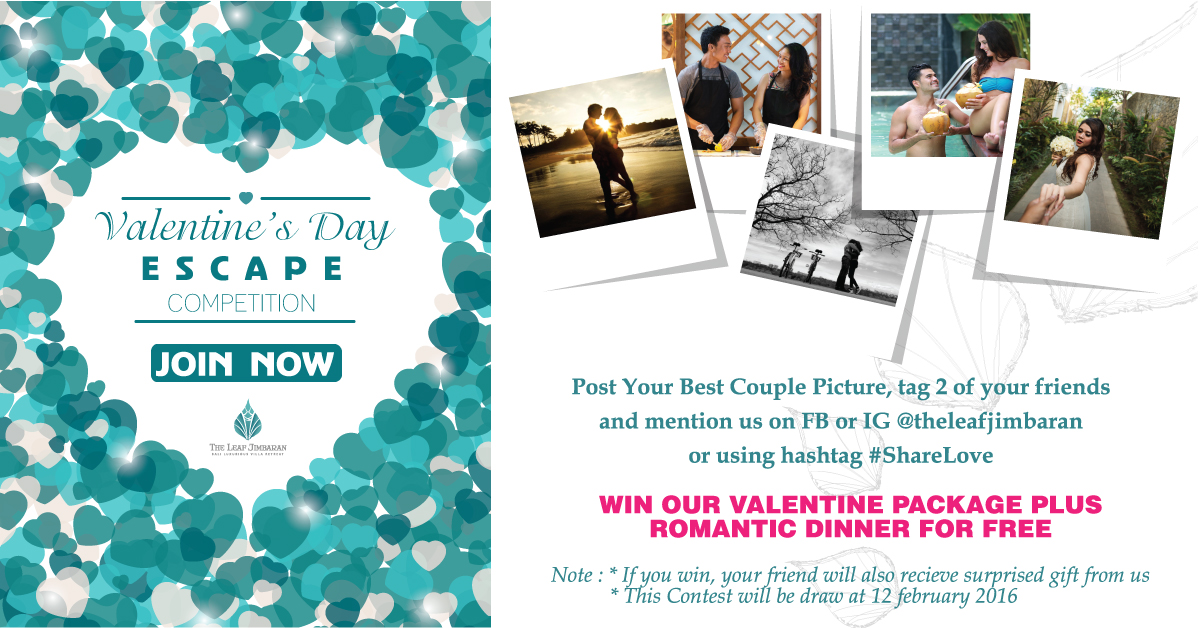 Join Our Social Media Competion, to Get Chance WIN
Valentine Escape Package
plus Romantic Dinner at The leaf jimbaran on Valentine's day.
Rule :

See you soon at

EXPLORE OUR BRANDS
The Leaf Jimbaran



Jl. Jepun Karang no.81 - Mas Sejahtera,
Jimbaran 80361 Bali, Indonesia
Tél. +62 361 4725 445
Fax. +62 361 4725 440
View Newsletter Online | Special Offers | Media | Contact


You have received this LeafLetter because you opted to receive updates from The Leaf Jimbaran.

Don't forget to add info@theleafjimbaran.com to your Address Book to keep it from skipping your inbox or getting caught in spam filters.

We want your experience with the Leaf Jimbaran Leaf Letter to be a reassuring one. Accordingly, we diligently safeguard your privacy. If you wish to review our Privacy Policy at any time, please click on the link below, or copy and paste it into your web browser's location window. http://theleafjimbaran.com/privacy-policy

We'd like to keep you up to date on the latest The Leaf Jimbaran news, offers and events via e-mail. If, however, you'd like to stop receiving them, you can unsubscribe here [[UNSUB_LINK_EN]] at any time.

Please do not reply to this e-mail as we are not able to respond to messages sent to this address.